Remembering Dick Clark (1929-2012)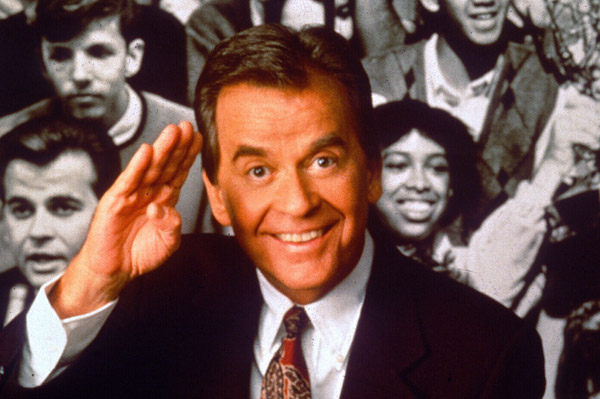 The legendary television host, radio personality, and businessman, Dick Clark passed away last Wednesday, April 18, 2012 from a heart attack. Dick, nicknamed 'The World's Oldest Teenager', was best known for hosting America's longest-running variety show, American Bandstand. The show helped provide exposure to up-and-coming musicians and rock stars. According to Billboard:

"Clark, who was almost 28 at that time, understood that teenagers were trend-conscious and that the shows needed to reflect changes in clothing, hairstyles and dances as well as radio's top 40. The dancers, all of them Philadelphia high schoolers, were a more consistent presence than any musical stars; "American Bandstand" took a democratic approach to pop music, relying on the strength of songs rather than superstar talent."

Appearing on the show helped many Musicians achieve success. Some Musicians that were introduced to nationwide audiences included Paul Anka, Ike and Tina Turner, Smokey Robinson, Simon and Garfunkel, and Johnny Cash. By hosting and later producing the show, Dick Clark helped create youth culture by being the first to take kids seriously as consumers and spread rock 'n' roll. Besides American Bandstand, he hosted the TV game show Pyramid, a top-40 radio countdown, created Dick Clark's New Year's Rockin' Eve, and more.  

American Bandstand paved the way for other music television shows and networks like TRL and MTV. Although much of the programming on MTV has become reality TV shows like Jersey Shore and Teen Mom, MTV seems to be going back to its music roots. Recently, the network brought back Unplugged, an acclaimed acoustic music series that showcases today's top artists and introduces rising stars. In addition, MTV announced new artist pages which will be launched later this summer. Now, it seems music is everywhere on TV with shows like American Idol, The Voice, The X Factor, Glee, and Smash plus countless others. This shows Dick Clark's influence on music and television.


Ringing in the new year won't be the same without Dick Clark. I love watching Dick Clark's New Year's Rockin' Eve every December 31st. Dick Clark's protege, Ryan Seacrest, will probably host the show for 2013. Ryan Seacrest is already set to become the next Dick Clark with all the things he has done from hosting his own weekend countdown radio show, American Top 40, to hosting American Idol. At least the show will be in capable hands.

Thanks Dick Clark for all your contributions to television and music.

RIP Dick Clark